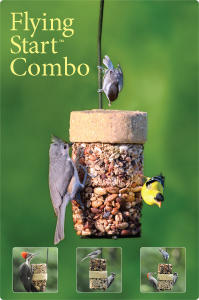 Attract All the Birds for Under $20
Includes a reusable pin feeder and 3 stackable:
Naturally Nuts No-Melt Suet
No-Mess Shell-Free Seed Cylinder
Nutty for Nuts Cylinder
It doesn't take a lot of effort... or a lot of money to get started feeding the birds. With our Flying Start™ Combo, you get everything you need. It's quick, easy to hang and includes the foods the birds in your backyard will love.
Great for First Time Bird Feeders
Great Addition to Your Existing Setup
Perfect Gift Item