Serving the Susquehanna Valley in:
Choose How You Want to Shop:
– In-Store – Curbside – Phone-In – Online
20 lb. Bags Not Available Online -- Call to Order
Limited Product Selection Online
Visit our Stores to See Our Complete Selection
Your Local Bird Feeding Specialists
∞ ∞ ∞ ∞ ∞ ∞ ∞ ∞ ∞ ∞ ∞ ∞ ∞ ∞ ∞ ∞ ∞ ∞ ∞ ∞ ∞ ∞ ∞
Club Member Special
Earn Double Points - For A Limited Time
As a thanks to all of our Daily Savings Club® members, we're giving you a chance to earn Double Points!
So instead of your usual $10 Bird Buck with every $200 purchase, you will receive a $10 Bird Buck for every $100 you spend, good for a future purchase.
This Special Ends Soon - Don't Miss Your Chance to $AVE!
Club Membership required. Valid only on in-store purchases or orders placed by telephone. Not valid on orders placed online. Not valid on previous purchases or optics.
Offer expires 9/27/23
Not a Member? Join today!!!
∞ ∞ ∞ ∞ ∞ ∞ ∞ ∞ ∞ ∞ ∞ ∞ ∞ ∞ ∞ ∞ ∞ ∞ ∞ ∞ ∞ ∞ ∞
We are a specialized hobby shop providing a wide variety of products for backyard bird feeding. We make every effort to understand your specific needs, answer all your questions, and share information with you about the hobby. Our SERVICE, QUALITY and SELECTION make us uniquely different than online retailers and other stores in the area offering bird feeding supplies.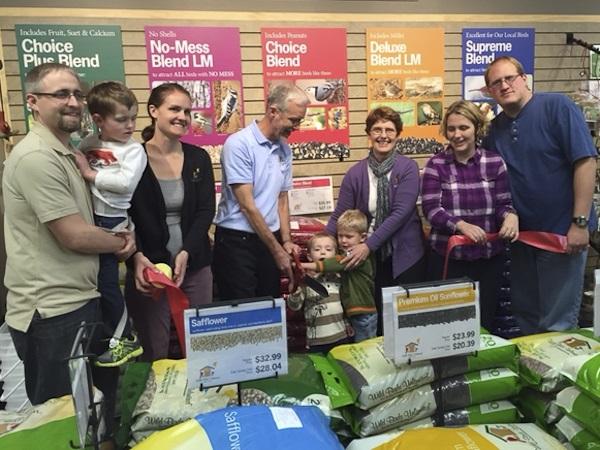 We are a FAMILY-OWNED and OPERATED business. As franchise owners, we are able to offer exclusive Wild Birds Unlimited products at competitive prices. We appreciate your business and want to make it easy for you to do business with us.
Every member of our staff has been thoroughly trained and certified as a BIRD FEEDING SPECIALIST. We are ready and available to answer all your bird feeding questions.
Dan Hinnebusch is our ON-STAFF ORNITHOLOGIST. Dan is a member of the family (the owners' son-in-law) and a vital part of the Wild Birds Unlimited business. Dan manages all of our stores, provides educational seminars and bird walks, and often accepts invitations for off-site presentations throughout the Susquehanna Valley.
OUR BIRD FOODS ARE OF THE HIGHEST QUALITY AND ALWAYS FRESH. Our bird seed blends have no grains or fillers (like cracked corn, oats, milo, or red millet) - ingredients often found in other stores' blends that reduce the cost but end up as waste on the ground. As owners, we have selected the ingredients to include in each blend - knowing the right seeds and quantities for the birds in this area.
We are so confident in the design and quality of our feeders and accessories that many carry a LIMITED LIFETIME GUARANTEE. All repairs and replacements are completed on the premises.
Stop by one of our locations TODAY and experience a different kind of backyard bird feeding store! We look forward to hearing about the birds in your backyard.
---